Hey all! I hope you are enjoying your holiday weekend! I know I sure have! My hubs and I adopted a new dog on Tuesday, and I've just been loving the puppy cuddles. We got family pictures taken today by our sweet wedding photographer, and I'm so anxio

us to see them!
Even though, I have LOVED the time off and am sure I won't love the alarm clock tomorrow, I am so excited because

tomorrow is

Cyber Monday and I can't wait to

move some items from my wishlist over to my cart. :)
Everything in my little store will be 20% off Monday and Tuesday. TpT is taking 10% off the sale price of any item you purchase, m

aking everything in my store 28% off.
Many thanks to the sweet Ashley Hughes for the adorable graphic. That girl is so, so, so talented. :) Just click on the image above to he

ad over to my store.
I just uploaded my Christmas Fry Phrase Fluency Game last night. I am so excited to use this with my kiddos. :) I know they will love playing Jingle

Jangle!
Also, just in time...my Christmas themed graphic organizers are ready! :)
My Teachers Notebook store is also on sale, and the sale has already begun. Everything there is 20% off too. Although, I haven't been the best at uploading to there lately. My apologizes, life has just been flying by lately! Just click on the cheerleader below to head

on over!
I also uploaded my Christmas themed roll and cover to my Teachers Pay Teachers store. :) I love having these games available for my kiddos to play during the occasional down time or with my parent helpers. :) Just click on the image below to che

ck it out!
Sweet Michelle over at the 3AM Teacher has organized an awesome link up of the sales happening over the next few days. I'm about to head over and link up. :) Happy to join in the fun, but not so sure my wallet and m

y husband will enjoy the outcome! :)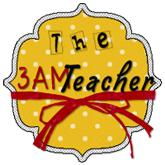 Enjoy the rest of the weekend sweet friends, now that we are in a better routine with the two pups and I'm no longer sick, I'm looking forward to sharing more of what my fourth graders and I have been up to in

classroom! :)