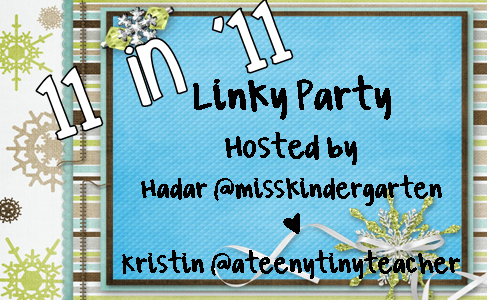 Hello friends! Welcome to my new teaching blog! However, I am no stranger to the blogging world, I've had a
food blog
for over a year now and have fallen in love with the blogging community. However, during the course of the past few months, I have found myself visiting teaching blogs more than food blogs and have been anxious to start my very teaching blog.
While I will be sharing soon some of the activities I did in my classroom for Christmas very soon, I am excited to be linking up to Hadar's and Kristin's 11 in 11 Linky Party. That way we can get to know each other better. :)
11. Favorite movie you watched:
I saw a lot of funny movies this year that I really enjoyed. However, I would have to say my favorite of the year was Bridesmaids. I went to see it with some of my girlfriends and to this day, my maid honor when she calls me begins every conversation with, "You are more beautiful then Cinderella! You smell like pine needles, and have a face like sunshine."
10. Favorite TV series:
My favorite new series from this year is Up All Night. Hilarious stuff. I mean have you seen the episode featuring Mr. Bob's Toddler Kaleidoscope and epic fight between Amy's mom and Kayla's mom?
My all time TV show is King of Queens. I own the entire series on DVD and watch it way more than I should.
9. Favorite restaurant:
This is a hard question! Although we eat lots of Panera and Chipotle, we are quite picky about the restaurants we go to. I would have to say my favorite meal of the year was at
Old Ebbitt Grill
in Washington D.C. for my birthday. We had a wonderful meal and they really know how to make a birthday girl feel special!
8. Favorite new thing you tried:
I have actually been blogging for awhile now, so I can't say that! I would have to say coaching with Girls on the Run and teaching second grade. This is my first year in second grade, I taught third grade for four years before that.
7. Favorite gift you got:
It's quite sappy really. In June, my husband resigned from his job. His job required a lot of travel, as in he was only home two weekends a month. He came home and now manages at a popular restaurant chain that is referenced in question number nine that specializing in picking two things. ;)


6. Favorite thing you pinned:
Goodness. I have pinned LOTS of things. I am head over heels in love with Starbucks, so I giggle every time I see this photo.
5. Favorite blog post:
I would have say the recipe for
cake batter doughnuts
I developed on my food blog. It was my most viewed recipe last year.
4. Best accomplishment:
I was involuntary transferred from the school year I student taught and taught for the first four years of my teaching career due to budgetary reasons a week before school started. Packing up and moving my classroom was one of the hardest things I have ever had to do. Surviving that mess and not requiring therapy in the end, is something I'm very, very proud of.

Oh and starting to run again. Once upon a time, I ran a marathon. Then I met my husband and stopped running. It's been wonderful doing something I love on a more regular basis again.


3. Favorite picture:
This picture was taken when I celebrated my birthday at my inlaws house in Virginia this summer. I remember wishing to "see my husband more" and he resigned from his job that next week. Wish granted. :)
2. Favorite memory:
I have two.
1. Crossing the finishing line with one of my students while she completed her first 5k as a coach with Girls on the Run. I was SO PROUD of her!
2. Going to Southern California to be in my best friend's wedding!
1. Goal for 2012:
I just have one word: Strength.
I hope and pray for the strength to endure the rest of the school year as a part of a very challenging team of teachers. I am the youngest by twenty years and it makes group planning and collaborating difficult.
Strength for my body to endure half marathon training.
Strength to stick to the budget my husband and I have put in place to save for our first home.
Strength to just trust God and the journey he has planned for me personally and professionally.
Hope to see you over at
Miss Kindergarten
and
A Teeny Tiny Teacher
to join all the fun!